Victorian School Promotions Positions Application Package | Site Licence
Prepare an outstanding application for a promotion in Victorian state schools
This package is designed specifically for teachers in the Victorian government system seeking promotion to Principal, Assistant Principal or Leading Teacher.
The application package comprises two documents: a detailed booklet and a PowerPoint presentation. Each document contains two sections: 'Application Writing' and 'Preparing for Interview'.
Part One - Application Writing
Strategies to help you plan for promotion a long way ahead,

Ideas for presenting your résumé – how to maximise the initial impact and inspire the panel to want to read more,

Incorporating key elements from the DEECD Strategic Plan and Developmental Learning Framework for Leaders into your written application for maximum impact.

Ideas on layout, style and language,

The dos and don'ts of criteria writing,

The all-important Potential Statement – how to effectively project yourself into your new role; and

Plenty of sample selection criteria. There are a wide range of examples covering the written criteria, providing valuable examples of different genres and styles of writing.
Part Two - Preparing for Interview
Early preparation strategies,

Tips on dealing with the different types of interviews – from the "traditional" interview with questions and answers through to the more school-specific "case study scenario",

Help with interpreting questions – how to turn a question that is worded "trickily" into a "friendly" question,

Advice on understanding and preparing yourself for the two types of questions,

Tips on things to do and things to avoid during the interview; and

Information on how to successfully close the interview – value-added strategies to give you the competitive edge.
This product includes a full school Site Licence for use of this product by all teaching staff in the school, either in school or at home. Your school-specific site licence will be emailed to you shortly after purchase.
Victorian School Promotions Positions Application Package | Site Licence
Site Licence
Includes GST
Includes GST
Site Licence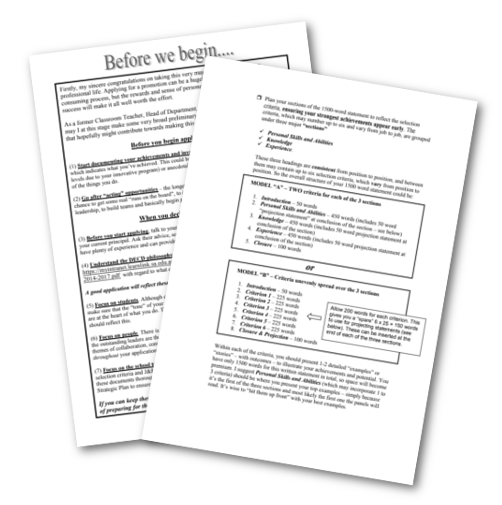 PDF
A detailed, printable booklet containing clear directions and extensive examples for developing your CV (résumé), addressing your selection criteria and preparing for the interview.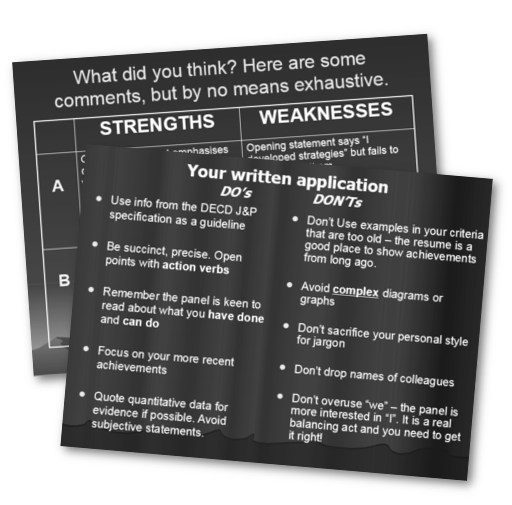 PPT
A PowerPoint presentation to support the booklet, which provides you with clear, comprehensive guidance throughout the whole process.